IEEE 1394
The IEEE1394 interface is a serial bus interface standard for high-speed communications and isochronous real-time data transfer, frequently used by personal computers, as well as in digital video, automotive, and aeronautics applications. The interface is also known by the brand names of FireWire, LINK, and Lynx. FireWire has replaced parallel SCSI in many applications, due to lower implementation costs and a simplified, more adaptable cabling system. Panstrong provides the IEEE1394 connectors from 4pin, 6 pin to IEEEE 1394b 9 pin type.
Description & Features:
100% test proven in accordance with IEEE 1394 standard
Full metal shield which protect receptacles from ESD
Rugged gold plated terminal withstand up to 1,500 mating cycles with less 30m ohm
Specification:
Contact Resistance less than 30m ohms
No discontinuity at 1 micro-second during 3-axis vibration
Withstanding Voltage: 500V AC +/- 50V AC min
Insulation Resistance: 100M ohms min.
Mating Cycles: 1500 cycles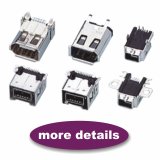 IEEE 1394